Chicago kids
Two Bros x NuEra
RisEau was born in Chicago, where a long friendship led to a collaboration between two passionate family companies.

We know CBD
NuEra
NuEra is one of the OG Illinois cannabis companies. With dispensaries, grow facilities, and processing capabilities in multiple states, they bring their knowledge of the hemp and cannabis plants, from seed to sale, to every can of RisEau.
We know drinks
Two Brothers
Two Brothers brings decades of expertise pouring their heart into beverages. With a passion for flavor, manufacturing know-how, and a commitment to environmental best practices to make RisEau the tastiest CBD drink you can find.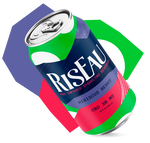 So we made
CBD DRINKS
We joined forces to make the most effective, best tasting CBD beverage in the market.
RisEau is made from two naturally-occurring ingredients our bodies know and love, a cannabinoid (CBD) and eau (French for water, oh là là!) to work with your body to enhance and balance your day.
SHOP NOW